Superpolator introduced multidimensional interpolation in 2004, after a particularly interesting TypeMedia class. The code that does the math became an openSource library in 2014 with support from Adobe.
So what's goin on?
OpenType 1.8 introduced Variable Fonts, with a mathematical model that is similar to, but not the same as MutatorMath. The designspaces can be more complex. This means that if you want to use Superpolator in a workflow aimed at Variable Fonts, the application can't do all the proper previewing.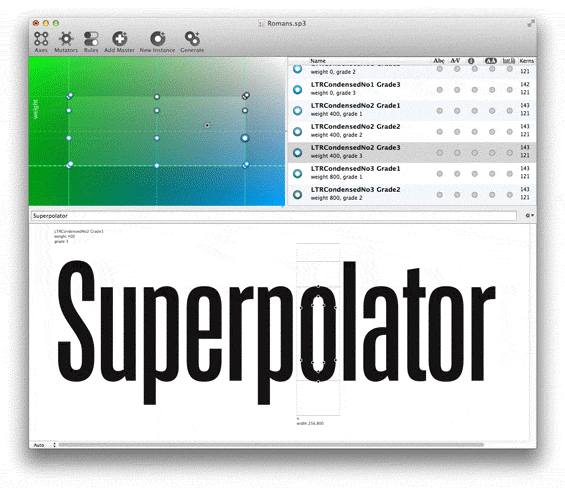 Can't you just write something new then?
I did. I think variable fonts require a different tool that is much tighter integrated in the design process. Looking at interpolations in another application is just too slow. I want to see measurements change in an interpolation while I pull at points in one of the masters. Also the thing with two applications sharing a single file (as we did when Superpolator would read a UFO that is also open in RoboFont), turns out macOS is not really happy about that.
That new tool became Skateboard, an extension for RoboFont
What's going to happen?
If you've purchased a Superplator3 license and you're using it for generating instances and design explorations: it will continue to work. And I will continue to offer support and small fixes.
If you're planning to convert old sp3 data to designspaces for variable fonts: you can use Superpolator3 to export to designspace format. You can then edit this file with the free DesignspaceEditor extension for RoboFont.
After that you can use RoboFont's Batch extension to generate instances. Or you can integrate instance generation into your own workflows with packages like UFOProcessor. You can hire me if you need help with that.
Oh boy, do you mean Superpolator is going to.. retire?
Yes, for now. You should get yourself some Skateboards.
But wait! my whole workflow depends on Superpolator!
Breathe. It will be fine. Give Erik a call.
Read more about the differences between Skateboard and Superpolator